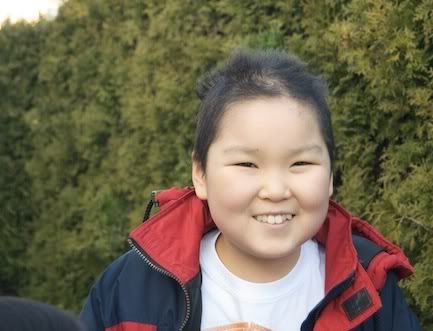 Wow, haven't posted in over two weeks, been lazy on my blogging again. Last week, it was pouring rain so I was lazy and didn't go for my long run, but I made it up during the week by running 3 out of 5 days.
I want to take a bit of time to introduce you to my honoured hero, Jessica. Jessica is 13 years old and was diagnosed with ALL (Acute Lymphoblastic Leukemia) last year. This is the most common type of Leukemia in children. She bravely fought through rigorous treatment to conquer cancer and she is going through a great recovery right now. Jessica and her family wants to thank God for his blessing in helping Jessica go through a quick recovery. Every time when it's too hard to run, I think of Jessica and she helps me continue to run more.
I've been getting hyped up for today because it's the 25th Annual Vancouver Sun Run. This is my first time participating in the Sun Run, so I was pretty excited about being a part of such a huge event. The weather network all week called for rain, but we were very blessed because it didn't rain a drop!
I packed light so I didn't have to use gear check. I felt really good on the 10k run today. I think I finished just over 1hr15min which is a pretty good time! Viet was running with me the whole time, though at times I had to stop and wait or run back a bit just to make sure I don't lose him.
After the run, there was an expo inside BC Place with free food!! I had two cups of yogurt, two halves of a banana, a box of apple juice, a cup of orange juice, a cup of pineapple juice and one bagel...Now that I have that typed up, that's quite a bit of food I chowed down. Hey! I was tired! and starving!
After failing to find people we know, Viet and I walked over to Gerry and Jo-Ann's place to see the wonderful view before they move to their new place on May 1st. Jack was barking like crazy every time a new person came through the door, but you can tell he's a good boy :)
Going home after the run, I showered and took a nap for an hour before the Canucks game.
Canucks game 3 vs. St. Louis Blues. We kicked butt! 3-2 was the final. Our powerplay AND penalty kill is really kicking it up. Game 4 on Tuesday!!!